| | |
| --- | --- |
| Announcing the 2018 Crab Creek Review Poetry Prize! Contest opens Feb. 15th. Judged by Maggie Smith! | |

Contest deadline is May 15, 2018. A $500 prize

will be awarded for the winning poem. All entries considered for publication. Winner and finalists will appear in Crab Creek Review.

​

Maggie Smith

is the author of three books of poetry:

Good Bones

(Tupelo Press, September 2017);

The Well Speaks of Its Own Poison

(Tupelo Press, 2015); and

Lamp of the Body

(Red Hen Press, 2005). Smith is also the author of three prizewinning chapbooks. Her poems appear in

Best American Poetry,

the

New York Times, The Paris Review, Ploughshares, The Gettysburg Review, Guernica, Plume, AGNI, Virginia Quarterly Review,

and elsewhere. In 2016 her poem "Good Bones" went viral internationally and has been translated into nearly a dozen languages. PRI (Public Radio International) called it "the official poem of 2016."

Smith has received fellowships from the National Endowment for the Arts, the Ohio Arts Council, and the Sustainable Arts Foundation, among others. She lives in Bexley, Ohio, and is a freelance writer and editor

.

---
---
Announcing the 2017 Pushcart Prize Nominees!
Crab Creek Review is pleased to announce our nominees for the 2017 Pushcart Prize.
​
From 2017 Vol.1:
Shankar Narayan: "To: CEO@Ancestry.com"
Charnell Peters: "An Uncertain Map of How I Got Raced"
Jennifer K. Sweeney: "The Pear Trees at Terezin"
​
From 2017 Vol. 2:
Carlos Andrés Gómez: "Pronounced"
Leyna Krow: "The Razor's Edge"
Diane Seuss: "Self-Portrait with Emily Dickinson (Rebirth of Mourning)"

Special Mention to Sanam Mahloudji, whose short story, "Plain White Shoebox" (2017 Vol. 1) was nominated for the PEN/Robert J. Dau Short Story Prize for Emerging Writers. Congratulations, Sanam!
​
Congratulations to poets Jennifer K. Sweeney, Carlos Andrés Gómez, Charnell Peters, Shankar Narayan, Diane Seuss, and writer Leyna Krow. Best of luck to all of the nominees!​

---

Subscribe to
​Crab Creek Review

Seattle-based Crab Creek Review is the little magazine with a big heart. This woman-run journal publishes new voices, emerging, and established writers. Discover your new favorite poet by subscribing today!

---

---
---

Please help support outstanding voices in poetry and prose by purchasing the journal or donating to Crab Creek Review.

We are a tax-deductible and non-profit organization that stays active in the literary arts because of the generosity of readers like you. We thank you for your support!
Fall 2017 Issue is here!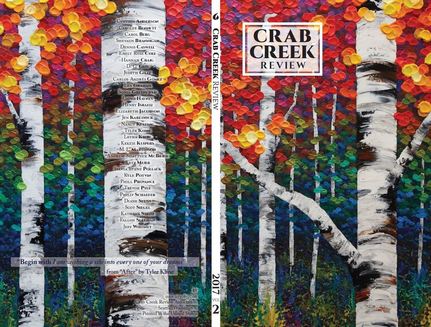 Featuring the 2017 Crab Creek Review Poetry Prize winner, finalists, & semi-finalists, and packed with stellar work by Diane Seuss, Keetje Kuipers, Henry Israeli, and many others. We are pleased to include an interview with Rheea Mukherjee (
Transit for Beginners
) and a review of Tammy Robacker's
Villain Songs
.
​
Order
your copy today!
from Benign, and Other Words for this Kind of Reprieve
by Carolee Bennett:
​
Translucent
means close your eyes.
Tenuous
means you will be breathing on your own.
Write this down so you won't be afraid:
the paralysis is temporary
, the impalpable
alter-world nearby the whole time.
This is how it works.
​
---
---

Fall reading period opens September 15th!Crab Creek Review

open reading period runs September 15 through November 15. We look forward to reading your work. Please see the

submission page

for guidelines.

---

Crab Creek Review Poetry Prize awarded to Hannah Craig!

Crab Creek Review is pleased to announce the results of the 2017 Crab Creek Review Poetry Prize, judged by Diane Seuss (Still Life with Two Dead Peacocks and a Girl, 2018). Read more about the poets on our blog.

Winner:
Hannah Craig, for "Hemming Twice to Show the Strength"

Finalists:
Carol Berg, for "Self-Portrait as Seven Deadly Sins"
Phill Provance, for "The Stenographers Union"

Hannah Craig will receive $500 plus publication in the 2017 fall issue of Crab Creek Review. Finalists and Semifinalists will also be published. The complete list of semifinalists is listed below. Congratulations to all the poets!

Carol Berg, Self-Portrait as Seven Deadly Sins (Finalist)
Shevaun Brannigan, Living
Dennis Caswell, The Empiricism of Memory, and The Cow Disembarks from the Ark
Emily Cole, Nocturne with Supermoon and MS Relapse
Hannah Craig, Hemming Twice to Show the Strength (Prizewinner)
D. G. Geis, If Cowboys Were Cancer Cells
Carlos Gomez, Pronounced
Lea Graham, Escapeful (adj.) giving a chance of escape.
Laura Haynes, Down, Otherwise Known As Up, and By the way he plants his wheat, you see the country of his origin.
Elizabeth Jacobson, Blue Reminds Me of the Truth
Jen Karetnick, 23andMe Says My Body Is a Sanctuary City
Nancy Keating, Calling Out the Muse
Andrew McBride, I Was Happy As An Ant
Kate Murr, If These Are Eggs
Sylvia Pollack, Flagrance
Phill Provance, The Stenographer's Union (Finalist)
Trevor Pyle, Pablo Picasso
Amir Safi, Other Ideas for Pepsi Commercials
Scot Siegel, History, the Homemaker
Kathryn Smith, The young eat what these birds disgorge from their crops
Fallon Sullivan, Ode to the Abused Body



---

2017 Spring issue available now!



The human mind can learn
multiple languages in early childhood. No need
to wrestle with identity politics too early,

just offer your babies the world.
By age six a window closes
and the mind wants to consolidate. Already

we're taking stock, choosing tribes.
I remember my mother's voice singing a Fairuz lullaby
amara ya amara come down from the treetops, little moon.

from Lena Khalaf Tuffaha's "America Teaches Me About Myself"



---

---

The 2016 Fall Issue


from the current issue, a quietly powerful poem by Connie Post:

lavender and fuchsia
permeated the morning

we were called to breakfast
we ate waffles
and said nothing of the raging blooms

the apologies
buried in the ordered way
the flowers were arranged

(Excerpt from "Gardening", by Connie Post, winner of the 2016 Crab Creek Review Poetry Prize.)
Want to read the rest of the poem and the whole brilliant issue? Support great literature by purchasing a copy or subscription today!



---

---

Congratulations to the 2016 Crab Creek Review Poetry Prize Winner

Crab Creek Review

is pleased to announce the winner of the

Crab Creek Review

Poetry Prize, chosen by

Oliver de la Paz

.

Hearty congratulations to

Connie Post

, winner of the 2016

Crab Creek Review

Poetry Prize! Connie will be awarded $500, and her poem, "Gardening" will appear in the fall issue of Crab Creek Review. Three finalists were also chosen: "Ode to the Continuously Renamed", by Elizabeth Acevedo; "Desgraciado", by José Angel Araguz; and "Selfie at the End of the World", by Francine Witte.

Congratulations to Connie Post, and to each of the finalists. Nearly 900 poems were received for consideration. The editors were impressed with the high quality of all of the submissions, and enjoyed reading through these poems. Thank you to all the poets who entered the competition. Please know your submission fee goes toward paying the winner of the contest, as well as paying for production costs and a small honorarium for the contest judge.

Oliver de la Paz had this to say about "Gardening":

"I find the quiet and economical power of this poem to be quite profound. But it's not quiet or subtle throughout. The pivotal moment in the sixth stanza which has the protagonists ". . . eating/eating/gorging" is a loud and painful moment in a poem that otherwise seduces the reader into thinking all is well and beautiful. The final two stanzas show the gravity of the wound and the startling image of "pulling petals/out of my body" held me long after I had read the poem."

Oliver de la Paz

is the author of four collections of poetry,

Names Above Houses

,

Furious Lullaby

(SIU Press 2001, 2007), and

Requiem for the Orchard

(U. of Akron Press 2010), winner of the Akron Prize for poetry chosen by Martìn Espada, and

Post Subject: A Fable

(U. of Akron Press 2014). He is the co-editor with Stacey Lynn Brown of

A Face to Meet the Faces: An Anthology of Contemporary Persona Poetry

(U. of Akron Press 2012)

.

He co-chairs the advisory board of Kundiman, a not-for-profit organization dedicated to the promotion of Asian American Poetry and serves on the Association of Writers and Writing Programs Board. A recipient of a NYFA Fellowship Award and a GAP Grant from Artist Trust, his work has appeared in journals like

Virginia Quarterly Review, North American Review, Tin House, Chattahoochee Review,

and in anthologies such as

Asian American Poetry: The Next Generation

. He is the music editor for

At Length Magazine

and he teaches in the MFA program at Western Washington University.

---
---